---
the old Su-24 fighter and Khibini electronic Jamming Complex
TRUE or FALSE?
April 10, 2014 onwards, the destroyer arrived in the neutral waters of the Black Sea for the campaign of intimidation and force to the intransigent position of Russia in Ukraine and the Crimea. Prior to this, in the Black Sea was, in violation of the Montreux Convention, the other an American guided-missile destroyer TRUXTUN. That is, there was a typical, my beloved by Americans, the rat race and international boorishness. The Russian reaction was calm but deadly: 12 April, in a great day of cosmonautics, our ordered to fly in neutral waters, unarmed Sukhoi Su-24, but with "Khibini" under the wing. Next, all developed about this scenario: "cook" even issued a "drying" caught, played battle anxiety and metering of combat positions. Everything went normally, radar believed convergence to aegis, properly managed the targeting systems. And suddenly - clap! All died down. Aegis is not working, the screens show the dregs, even "Falanks" can't get pinpointing! The Su-24, meanwhile, went over the deck, "cook", made the battle a u-turn and simulated missile attack on goal. Of course, the successful -because there is no counter! Then turned around and simulated another. And so on-still 10 times! All attempts to revive aegis technicians and provide target acquisition for air defense, have failed, and only when the silhouette of the "drying" melted away in the mists above the Russian coast, the screens come to life, and guidance systems in good faith have shown clear, shining emptiness of the April sky.

Bottom line. Most likely, after the Su-24 has included in the immediate vicinity of the "cook", "all air" Khibiny destroyers. Our checking system performance EW, 12 (!) times a mock attack on an American ship. In all this time, the crew was unable to revive disabled CMSs. She earned only when a Su-24 left the course at the base. Then, realizing his own powerlessness against the complex radio-electronic warfare conventional bomber, 27 people and filed reports. 16 April, 2014 19:45
a photo "Chibiny" versus "Aegis"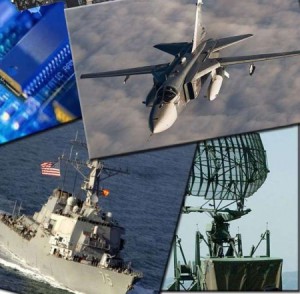 the photo from http://leva-net.webnode.cz/products/chibiny-versus-aegis-co-tak-vystrasilo-pentagon/
the text quoting from http://vineyardsaker.blogspot.cz/2014/04/personal-announcement-blog-switching-to.html
Komentáře
Přehled komentářů